Gocco encore et toujours. J'ai toujours aimé mélanger les couleurs sur un même écran, ça apporte plus de contraste et des nuances de lumière. En général l'autocollant a plus de gueule quand on fait vibrer les teintes, surtout si elles sont proches.
Gocco… again ! I always enjoyed mixing all the colors on the screen. Gocco inks are really specific and hard to find. So when you are lucky enough to find some you buy them. Even if the colors are not ideal they always end up on a sticker. Generally the sticker is nicer when it is colorful, it gives more contrast and more vibrations, especially if the colors are close.
Au début j'avais pris tout mes tubes et j'avais balancé un peu de tout. Parfois je prenais le temps de faire des lignes ou des motifs. De toute façon après quelques frappe les couleurs voyageaient sur l'écran et elles se confondaient les unes dans les autres.
Je me souviens d'un autocollant inspiration Tortues Ninja (Krang), ou j'étais vraiment en pénurie d'encres (c'est qu'avec la gocco ce n'est pas donné et ça ne se trouve pas facilement) donc j'avais utilisé le fond de tout mes tubes (un graffeur parlerait de culs de bombe). J'avais obtenu un camaïeu de marron et de vert (ça laisse rêveur, hein ?).
At the beginning I took all my tubes and slashed a little bit of everything on the screen. Sometimes I was wise enough to organize it a little bit more, making lines and patterns. Anyway, after pressing a couple of times the inks always move on the surface and you see your colors traveling from a sticker to another.
I remember a screen I made right before my first visit to California. It was an insect inspired by Krang from the TMNT. I had no more inks. I was so frustrated, I really wanted to come visit with something new to stick. So I used the very end of the few tubes I had left. It ended up creating this wonderful browny-green.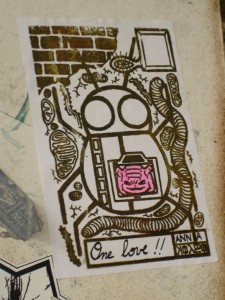 Une autre fois je m'étais amusé à rester dans la même famille en n'utilisant que du violet et du bleu. Le résultat fut un peu plus harmonieux.

Another time I used similar colors, blue and purples, I liked the result. Something more harmonious.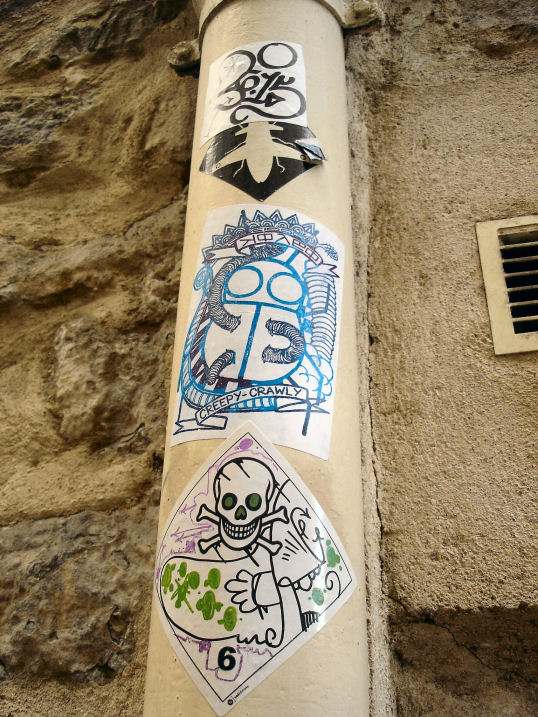 Charlie fut un bon exemple des limites de ne bosser qu'avec un écran. En sérigraphie on aurait tendance à en prendre plusieurs (un par couleur en toute logique). Étant un peu économe j'avais tenté de placer mes couleurs, bien comme il faut, sur Charlie, ça a tenu 10 stickers puis ça s'est mélangé pour retrouver cette magnifique teinte marronnasse.

Waldo showed me the limits of using one screen when you want something colorful and organized. If I was serious at silk screen I would have used many screens (one for each color I guess). Being kind of stingy and with limited resources I had to make it with one screen. So I carefully placed the blue on his jeans, red on his t-shirt, brown on his shoes… I made 10 of them, and after it was just a big mix of colors till it became all brown as usual.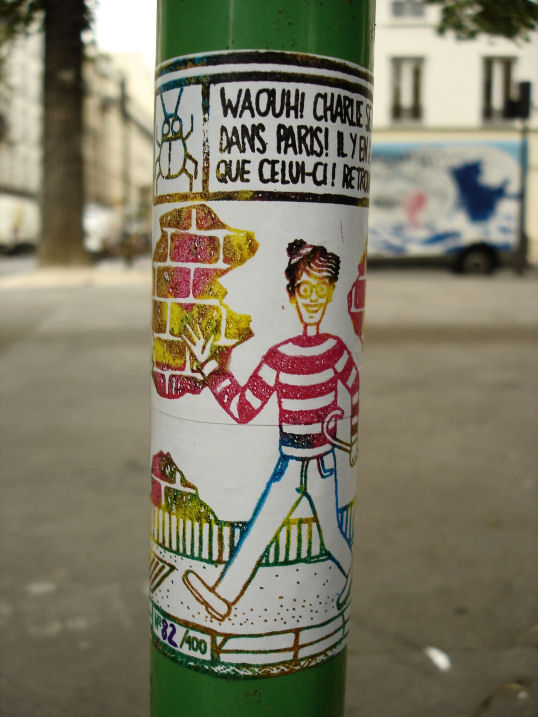 Plus récemment j'ai voulu faire mon bonhomme un peu plus proprement. Après en avoir fait quelques centaines tout bariolés, je voulais arriver à faire quelque chose d'à peu près propre, en restant dans les limites du DIY.
So more recently I was challenged. I made this new guy. After a couple hundred I wanted to make it clean. Just to see how well I could do. It is still DIY so it can't be too complex.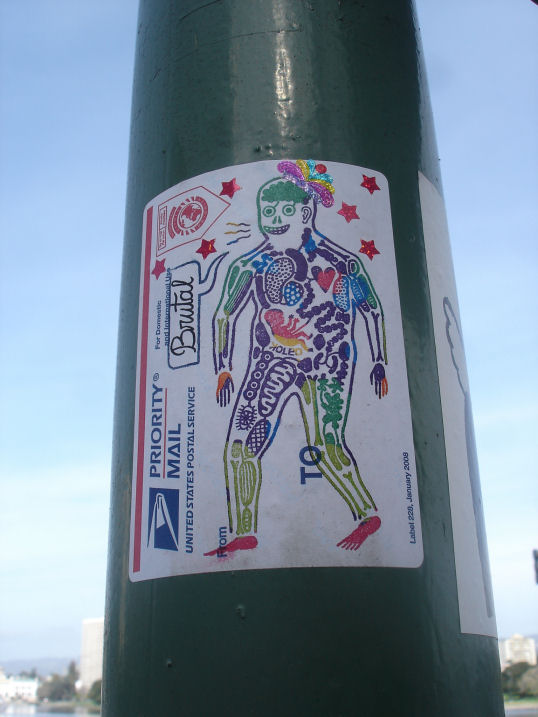 En me creusant le crâne je suis enfin tombé sur une astuce très simple : utiliser de la gomme pour séparer les différentes surfaces de l'écran, en gros créer des frontières. Étonnement le système marche assez bien. Hier j'ai pu en faire 200 facile, sans que ça déborde trop. Avis aux amateurs. J'espère que vous apprécierez la régularité du geste!

I ended thinking about this gum I use when I draw. I rolled it like a really thin spaghetto and I used it as a border line to separate different surfaces of my screen. It worked well. I did 200 slaps yesterday and it was super-easy. If you own one of these machines that trick could help.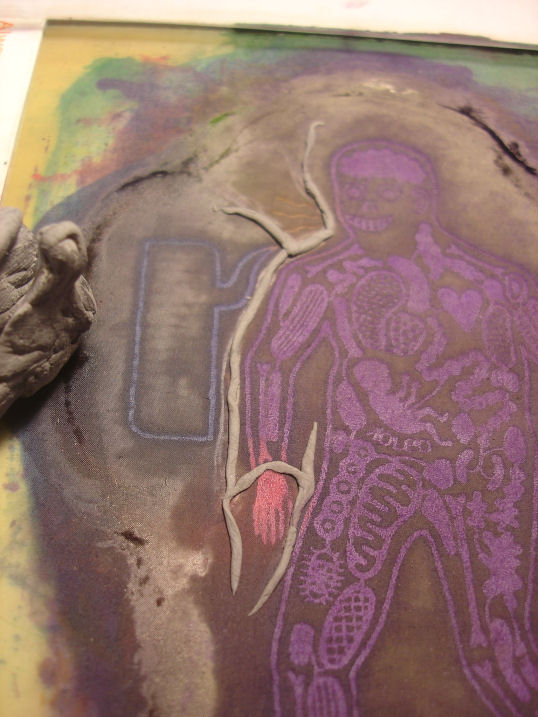 Régularité from Koleo on Vimeo.