Il y a des jours sans.
Hier soir, pris d'un élan de motivation, je décide de faire quelques stickers en utilisant ma machine à sérigraphier, la print Gocco (celle de la vidéo: http://fr.youtube.com/watch?v=c8uTiYOKSxQ ). Ça faisait quelques jours que j'avais préparé mon dessin. J'avais même flashé l'écran. Autant dire que tout était prêt et que mon petit matériel attendait sagement dans un coin de ma chambre que je m'active. Un écran c'est 10×15 cm. Habituellement je profite de la surface au maximum, quitte à être moins propre. Cette fois j'ai décidé d'y caler deux dessins différents, histoire de doubler ma production. J'me suis aussi simplifié la tâche au niveau des couleurs, en cherchant une certaine cohérence, une ambiance estivale. Aussi parce que j'en ai marre d'avoir des gros stickers, c'est plus riche visuellement mais c'est pas toujours adapté à la ville. Bref, je me lance, j'encre, je presse, je laisse sécher je découpe. Pendant environ une demi heure, un moment des plus sympathique.
Au bout d'un moment je m'attarde sur le résultat. Là je ne suis pas satisfait. Je décide d'arrêter net, pour reprendre un autre jour, ou pas. Je nettoie mon écran avec les produits habituels. Pas d'chance en frottant je l'abime, en fait je le détruit totalement. Ça ne m'était jamais arrivé. Sur le coup j'm'en fout, j'me dis qu'de toute façon j'l'aimais pas tant que ça ce visuel.
J'retourne dans ma chambre pour regarder à nouveau le résultat encore frais. Je vois tous ces petits stickers que j'ai fait naître et que j'ai rendus orphelins juste après. D'un coup j'les trouve plus si moche, en fait ils me plaisent bien. Voilà, alors que j'pensais me faciliter la tâche en changeant de format j'me retrouve avec une série de stickers sur les bras que j'vais avoir du mal à coller. J'me connait, j'vais chercher à leur rendre justice en les collant sur de bons spots…exactement là ou je colle les gros en général !!
Conclusion. La prochaine fois j'en ferais des gros. J'y mettrais plein d'couleurs. J'en ferais des tonnes (enfin, quelques centaines, ça reste limité cette histoire). Et j'referait une video, plus courte que celle des Charlie. Finalement ce petit échec m'a remotivé! Finalement ce petit échec n'est qu'un prétexte pour retourner m'amuser!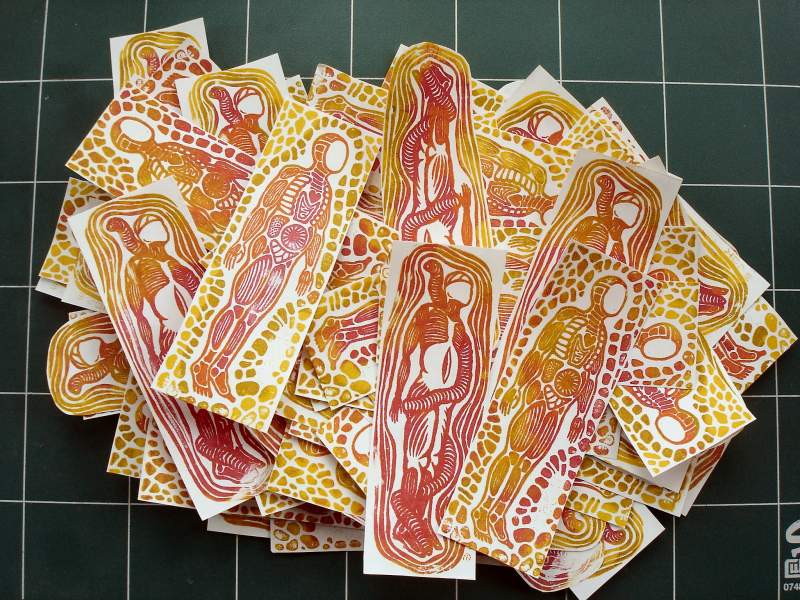 Fail !

Yesterday night, home alone, I decided to make some new stickers with my silk-screen machine. Remember it? The print Gocco, the same as this video http://fr.youtube.com/watch?v=c8uTiYOKSxQ . Everything was ready since a while. I made the drawing, I even flashed the screen. I had all the blank stickers I need. The screen is kinda big. Usually I take the whole surface to have the biggest sticker possible. But it's not always easy to put it in the street, spots or often little or crowded. Therefore this time I decided to double my production and also to make the street action easier by putting two images on the same screen. I inked, pressed, cut, let dry. It's almost a routine now. Thirty minutes of pure happiness.
After a while I looked at the result. Nnnhhhh, not so good! I stopped. I'll do it again later , may be not, I don't know, I was just fed up. I cleaned my screen. Actually I cleaned it so well that I destroyed it. I thought «  Whatever, I don't give a shit, it was a pretty bad image ».
Once in my room, in front of the drying stickers I realized that I liked them. In fact they were not so bad. I felt stupid thinking that I just made them orphans. Finally I see them as special, unique and rare. The exact opposite of what I wanted. They are no more easy to stick now. I'm going to keep them for the best spots, the well-seen ones, the few ones who won't get cleaned… the kind of spot that I used to reserve for the big stickers.

All this story give me motivation, for a new drawing. Next time it will be big, colorful, monstrousness. I'm gonna make a lot of them, as a revenge for my dead screen… as another excuse to use the Gocco machine.