Les mains sales et les yeux dans la poussière

À force de pratiquer toutes ces activités de peinture en milieu urbain on s'habitue à avoir les mains sales. C'est un classique, alors qu'à l'origine elles sont plutôt propres. Une petite fatalité qui traduit un changement d'état d'esprit. Pour moi ça a commencé tout bêtement par la peinture. Une tâche sur la moquette, quelques gouttes sur les pompes. Ça fait chier la première fois. Et hop! Il faut nettoyer, l'acétone est sous l'évier et l'éponge à vomi du chat est réquisitionnée. Un soir de semaine, la télé en fond sonore, une forte odeur de peinture et de solvant dans la pièce, à quatre pattes à frotter en se disant « La prochaine fois je mets un sac poubelle par dessus ». La prochaine fois justement, c'est au tour du pantalon. Il est condamné à devenir le tablier du dimanche après-midi. Mais en semaine aussi on fait des bêtises. Au bout de trois jeans la penderie y est passée. Finalement c'est pas plus mal un peu de couleurs, ça donne de la vie à la monotonie du bleu marine. « Fais gaffe, ton pantalon est sale » « Non, non! C'est de la peinture. ».
Pour les mains idem. Je me revoit encore frottant consciencieusement le contour de mes ongles. Jusqu'au jour où l'association d'un vert bouteille et d'un orange m'a plu, en même temps il n'y en avait plus beaucoup. C'était peut être juste par flemme en y repensant. Bref, les mains pleine de peinture c'est une mauvaise idée, c'est pas vivable. Par contre quelques coloration au bout des doigts ça reste discret et ça part tranquillement. Voilà, on s'est habitué à la chose. Vu les couches qu'on met sur les murs c'est pas chère payé d'en avoir quelques gouttes sur soi.
Mes premiers collages se faisaient à la brosse, tenue délicatement du bout des doigts. Maintenant ça se termine souvent avec les mains pleine de colle à caresser le mur. D'ailleurs c'est exactement le même geste que je fais lorsque je pose mon autocollant. Avant pour essuyer la poussière. Après pour être sûr que les coins ne se décollent pas.
Tout ça pour dire que par cette douce acclimatation à la saleté on forge aussi son œil à apprécier différemment ce que nous offre la ville. Ce changement de regard a surement d'autres origines (culture, expérience, rencontres, curiosité, etc). D'un coup tout prend une nouvelle dimension. Si on est capable d'apprécier un graff, un sitcker ou une affiche, on arrive à trouver agréable le spectacle d'un mur fissuré, d'un peu de rouille sur une gouttière ou encore de quelques traces d'humidité… grosso modo on se retrouve souvent a avoir l'œil qui brille et à oublier l'odeur de pisse dans laquelle on baigne. D'après moi ça dépasse la beauté que l'on peut trouver dans la banalité. C'est peut être plus une capacité à trouver un certain charme à la disgrâce. Un peu comme quand on dessine un nu et qu'on cherche le bourrelet, le bout de gras, la cicatrice ou un pli de peau.
Voilà. Toutes ces explications pour justifier ces deux photos. Je les ai prise il y a deux jours en allant faire des courses. La première c'était au sol, sous un arbre. Des crottes de pigeons je pense. A Paris on a l'occasion d'en voir assez souvent. Jamais de cette couleurs. Ça m'a surpris. Pour le coup ça n'est pas facile à rendre en photo sans que ça ai l'air truqué. Ce bleu violacé était totalement improbable. Magnifique par sa rareté et son intensité. Juste après j'aperçois un graff, un chrome, un peu caché. Je m'approche. Une porte de service. Un lieu légèrement reculé de la rue. Je n'y avais jamais prêté attention. Pas beau ce lettrage. Plein de spontanéité et de maladresse. Je ne sais pas pourquoi mais je lui ai trouvé une sorte de cohérence avec le lieu.
Deux images qui me font prendre conscience que mon regard a changé. Qu'il a évolué plutôt. J'ai appris à apprécier de nouvelles choses. Comme si il y avait différentes grilles de lecture à travers la ville. Plus jeune je me demandais comment on pouvait vivre en ville sans s'intéresser au graffiti. Ils sont omniprésent, comment les rater? Puis j'ai compris que moi aussi je ratais plein de choses. En prenant conscience que je devenais sensible aux impasses un peu crades j'ai compris que la ville était riche de chose qui me touchent peu. Le meilleur exemple est l'architecture. C'est vraiment quelque chose qui ne me parle presque pas. Pourtant je comprend que ça puisse être passionnant. Ca finira sûrement par changer, mais pour l'instant je me contente de ce qui est plus à mon échelle. Comme ici, que ce soit à mes pieds ou face à moi. Ce que j'aime dans la découverte de peintures sur les murs de ma ville c'est le fait que systématiquement dans ma tête s'opère un mouvement de zoom arrière, où le graff me renvoie à son mur, puis à l'immeuble, puis au pâté de maisons, puis au quartier et enfin à la ville.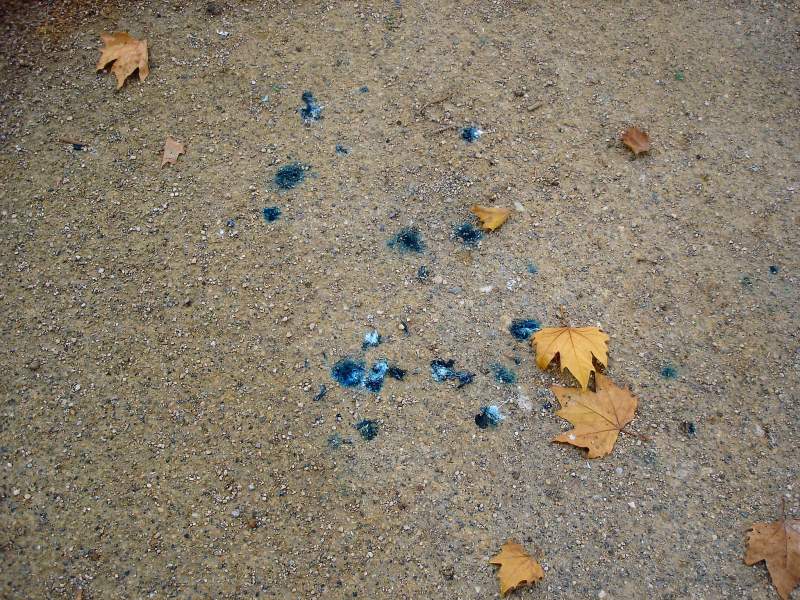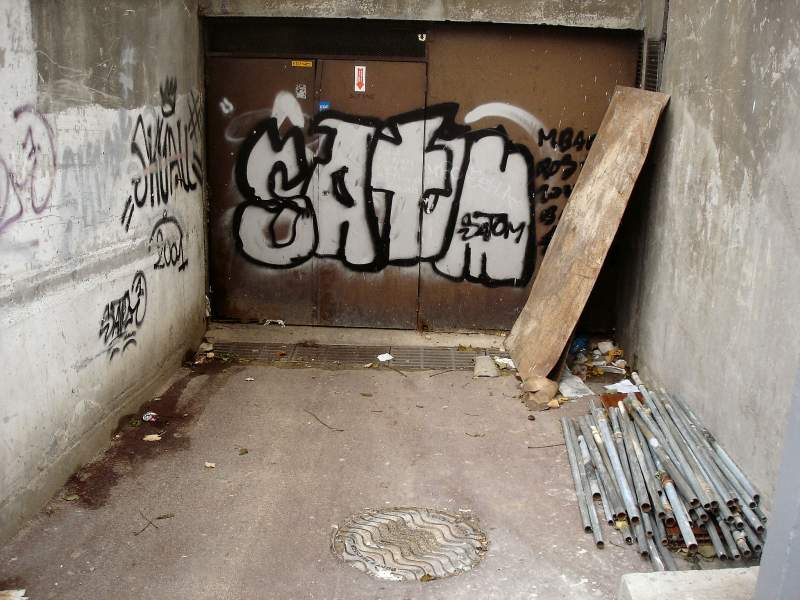 Deep, down and dirty
With the time and the experiences coming from urban paintings I get used to have dirt on my hands. Nothing original. It became normal for most of us despite we use to be clean. This change is a discrete fatality which underline a mutation in our state of mind. For me it's started simply with the paint itself. A drop on the carpet, another on the shoe. Damn! Time to get some cleaning supplies under the sink. « Next time I'll protect everything with a bag from Trader Joe's  ». Yeah, next time the drop is for my pants. Let's keep it for the art and craft Sunday afternoons. After three jeans your closet is done. Serioulsy, is that so bad? These few colors give some life to the eternal dark blue. « Hey, be careful your jean is dirty, you dropped some food on it » « No! Don't worry, that's just some paint! ».
Same story for the hands. Sunday evening. The room stinking paint and solvents. The noise of the TV for background. Me, conscientiously cleaning my fingertips with the scratching part of the sponge. Until the day I saw some dark green and orange on my nails. This combination was not so bad. I decided to keep it like this. Perhaps I was just lazy. It's really not possible to live with your hands full of spray paint. But nothing goes against some discrete drops. They will slowly go away during the week. Here it is, you're used to it. And seriously, thinking about all the shit we put on walls, that's fair enough.
When I remember the first times I put posters down the street, I can see myself, delicately holding the brush, being careful to don't have any glue on my clothes. Of course I'm not going to crawl in the mud. Nevertheless I have no more hesitation to have the fist full of glue and to caress the poster to be sure that it's flat. By the way it's exactly the same gesture with stickers. A first caress to check if there is not too much dust, a second one to be sure that corners are stuck well.
All these words to say that by this acclimatization to dirt we also modified our look on what the city shows us. I'm pretty sure that change in the look has various origins (culture, experiences, meetings, curiosity, maturity, etc). Suddenly all your environment takes another dimension. If you are able to enjoy the view of something as « ugly » as a graffiti or a sticker what about a broken wall, a rusty gutter, moisture marks? Ruthly speaking, for some years, I had been finding myself smiling at a walls forgetting (for some seconds) that it was stinking pee all around me. This mutation in the look is not just about being able to appreciate the banality of life. It's more about finding interest in the disgrace. Exactly like drawing a nude, you fetch for a scar, a fold in the skin, some fat or other wrinkles.
Now I can explain why I decided to show these two pictures. Two days ago I was going to the supermarket. Pure routine. On my way I saw some pigeon poo. As a parisian this is still pure routine. But this time the colors were amazing. A purple-blue. Something I've never noticed before. It's hard to translate the intensity of these colors by a photo, but I surprised myself taking the camera in my pocket and shoot at it. Few meters away I found a graffiti. It doesn't seems to be new but I didn't see it before. Ugly letters on a discrete back-door. I don't know… may be the atmosphere, the spontaneity, the moment, something seemed coherent to me. Once again my camera went out of my pocket.
Doing it twice in ten minutes made me understand that I changed. Some years ago I don't think I could find some beauty in poo or on a cracked-graffiti. It's like an evolution in my mind. I don't feel like I'm no more able to appreciate the same things, the range is just larger. I use to find unbelievable not to see graffiti when you are in a city, they're everywhere, so visible. Then I wondered if I was not missing a part of what the city give to us. By being sensitive to dark streets I understood that the city is rich of things that I don't pay attention to. Example: architecture. Certainly because I stick to things which are at my scale. But I know this is something which deserve to be known, it's too early for my mind. What I like in human size views (like a painting right in front of me, or poo between my feet) is the capacity of the human mind to operate a zoom out movement: the wall leads me to the building, then to the block, to the neighborhood, to the city!