Posted by:
koleo
in
Blabla
,
Futuristick
Riso Print Gocco B6

Le vendeur m'avait prévenu, les accessoires ne sont plus produits, difficilement trouvables et quasi-uniques. L'essentiel de cette machine est donc irremplaçable. Cette expérience était dors et déjà vouée à mourir. Je m'étais donc promis que lorsque ça arriverait je dépenserais mon énergie à passer a l'étape supérieure: la sérigraphie, plutôt que de m'attacher a ma petite Gocco pour amateur. La mienne est jaune. L'aura qui en émane et la valeur que je lui donne me fait un peu penser à la frénésie qui est apparue depuis quelques années pour les Polaroïds. Un objet voué à disparaitre, qui a un parfum d'enfance, un contre pied totale aux innovations de la technique.
La démocratisation des appareils photos numériques a surtout permis à ses utilisateurs d'être totalement décomplexés et libres au moment d'appuyer sur le bouton. Le stress des 24 poses a laisser place a la question "Au fait, t'as combien de giga la dedans?". La pression de la photo raté a été remplacée par la cérémonie des 15 prises quasi identiques. La visée, le nez collé au carton du jetable, grimaçant, un œil fermé, à entendre sa respiration, donnent aujourd'hui un exercice de composition sur l'écran, avec tout le recul nécessaire et la possibilité de zoomer. L'attente interminable et la crainte de l'autocollant "non facturé" a été oublié le temps que la barre de chargement disparaisse.
L'objet parfait, l'objet parfaitement en phase avec son temps, l'objet par lequel se cristallisent bon nombre de nouveaux comportements: principalement le refus de la décision et le manque de modération. Quelle libération de ne plus avoir à réfléchir sur sa prise de vue, mitraillons! Même le choix de la bonne photo est obsolète, le disque dur reste si long a remplir. Quitte à ne plus regarder les images et à les garder par plaisir de les avoir.
Ironique et mauvaise langue? Non, pas tant que ça. Le plaisir d'ouvrir un blog, de partager ses images, son point de vue, d'attendre quelques réactions, d'entrer en contact avec un semblable et d'interagir même à distance, est désormais accessible a tous. Le pouvoir de s'amuser pour pas grand chose. J'en suis a 12 000 photos et ça ne m'a couter qu'un noël et un jeu de piles rechargeables. Au centre aéré ça m'ennuyait profondément d'avoir à apprendre à faire un nœud de huit avant l'activité escalade, alors que mes yeux ne lâchaient pas une seconde les prises colorées du mur, là bas au loin. Alors là, pour une fois qu'on peut se distraire aussi facilement. En plus, même pas besoin d'être bon, il y a des compliments à tous les niveaux. C'est mortel! Un de ces bons petits plaisirs, bien égoïste, qui n'implique pas son lot de responsabilités. Il en reste peu. Il m'a fallut près de 12 caries pour comprendre que le sucre avait aussi des inconvénients.
Après il y a le charme, l'aura de Walter Benjamin. Comme le plaisir du geste et de l'action pour un taggeur. Le moment, unique destiné à disparaitre. La rareté charge l'instant d'un pouvoir de séduction. A l'air du numérique la multiplication mécanique de l'objet d'art s'est changée en dématérialisation de l'œuvre. On consomme. Pour nous ça donne cette gourmandise de l'image. Une sélection pointue de blogs, de quelques sites, sans parler des hasards, des parties de pêche, des chasses au trésor. Chaque jour au même moment, le matin ou en rentrant du boulot, un verre de coca et une musique de fond. Trente minutes, une heure, peu importe. On zappe/clique, ça va à toute vitesse…
Arghhhhh! Je m'égare encore. Là ou je voulais en venir c'est qu'au milieu de cette ruée vers l'or du numérique, le Polaroïd a pointé son nez et en a séduit beaucoup. Alors que l'objet est bien loin des possibilités qu'offre notre époque. Le plaisir qu'il promet est simplement différent. Plus rare il fait appelle a la patience et a la curiosité. Il garde l'immédiateté du résultat (ce qui fait d'ailleurs toute sa particularité), mais se distingue avec son tirage unique. Avec la Gocco c'est un peu pareil. Un objet vieux, en plastique et qui grince. Elle permet de faire des sérigraphie de petite taille (11×15 cm) à la maison. A l'origine elle a été conçue pour faire ses propres cartes de visite ou cartons d'invitation. Moi j'y ai vu l'objet parfait pour faire mes autocollants. Même si leur fabrication garde un aspect mécanique je les trouve à chaque frappe différents; les couleurs bougent et le résultat est truffé d'imperfections. Un dessin, répété quelques centaines de fois certes, mais tellement plus chaleureux qu'un jpeg tiré numériquement.
La boutique qui me fournissait les rares écrans et globes nécessaires pour produire de nouvelles images est en pénurie d'accessoires pour Gocco. Mon aventure avec cette machine se termine donc. Et comme un dernier rebondissement, une découverte. Au fin fond du Kentucky, en visite chez de la famille, dans la maison d'un ami d'ami, autant dire un inconnu, sous un meuble, une boite argentée: une print Gocco B6 bleue toute neuve. Là je me suis mordu les lèvres de jalousie puis j'ai bénie la magie des appareils numériques. Une série de photos disponible dans cette album. J'attirerais votre attention sur une des pages de la notice explicative qui me laisse perplexe quant à sa mise en pratique.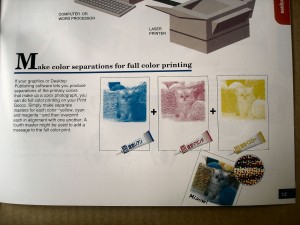 Le contenu de la VHS n'est pas reste mystérieux bien longtemps, Youtube nous fournie ces deux petits bijoux de ringardise. Appréciez l'habillage musical.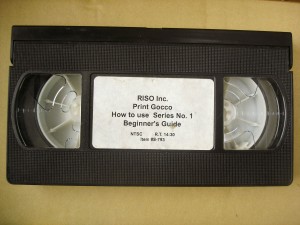 End of a story
Really too lazy to make a translation. Roughly speaking I'm saying that the present is cool because it makes us feel like we live in the future. Sometimes things are too easy to obtain, and that wastes the beauty of the act. The print Gocco produced by Riso is comparable to the Polaroid. An old plastic object which is really attractive nowadays, may be (in part) because it is going to disappear.