[ NB: Afin de manifester mon attente d'un nouveau post de Frère Francis le Quinzième qui délaisse un peu son blog (certainement au profit de sa vie sociale) j'adopte la philosophie One post a day keep the doctor away … alors add me et lache tes coms!!! ]
Le plaisir de créer
Fatigué des insectes, sans pour autant en être écoeuré j'ai, depuis cet été, expérimenté de nouvelles formes à coller. J'ai essayé de regrouper plusieurs idées que j'avais, que ce soit purement visuel ou sur le procédé de fabrication.
Au départ quand j'ai commencé à faire du stickers c'était dans l'idée (entre autres) d'une invasion d'insectes sur la ville. Du coup j'ai opté assez vite pour la répétition de mon logo par un procédé manuel (parce que c'est le cœur d'une véritable création d'après moi) mais qui permettait aussi de produire en quantité. Avec le temps je me suis éloigné du simple logo poché à la bombe pour m'amuser avec les formes et travailler sur une image. Walter Benjamin parle très bien du besoin de l'unicité ( hinc + nunc ) de l'objet d'art et je m'accorde en partie avec sa vision. Pourtant j'aime la répétition qui est une composante importante de l'identité de la plupart des peintres de rue.
J'ai donc dans un second temps cherché à faire des stickers tout en trouvant un équilibre dans cette opposition ancestrale qualité/quantité et même entre répétition/unicité. Avec la sérigraphie j'ai compris que je pouvais produire en quelques centaines d'exemplaires la même image. Les encres donnent aux images un caractère artisanal donc concret. Sur quelques modèles je me suis laissé un espace vide dans lequel je pouvait inscrire un mot/titre, ce qui rend chaque autocollant unique.
( http://futuristick.free.fr/index.php rubrique Autocollants pour les exemples)
Le problème de cet été c'est que je cherchais à créer une image unique dans sa forme même, mais que je puisse produire en série. On peut penser à Phot, Akso ou encore 3615 (notre chère Frère Francis) qui sont capables de faire des stickers un à un, au Posca, en bonne quantité. J'adore le résultat et le processus créatif, j'adore aussi me dire qu'ils ont passé un temps certain sur la plupart de leur pièces. Mais bon, j'ai pas cette patience, ou peut être mais elle est différente. A force de recherches j'ai fini par trouver mon équilibre. Je voulais créer des personnages, des petits bonshommes gesticulants, à l'humeur changeante. Une silhouette faite au pochoir, un corps qui laisse transparaitre ce qu'il renferme (organes et os) cette fois ci au Posca.
Ressemblance, différence, répétition, redondance, multiplicité, changement, constance et bla et bla et bla. Beaucoup de mots, beaucoup de réflexion pour de petites images qui restent sans grande importance. Surtout que mes autocollants sont plastifiés, pas d'absorption de la peinture donc l'acrylique ne résistera pas longtemps à l'usure. C'est comme ça que j'arrive à ne pas me lasser de faire du stickers, je prends une grande partie de mon plaisir dans tout ce qui se passe avant le collage lui-même. Et pour le reste advienne que pourra!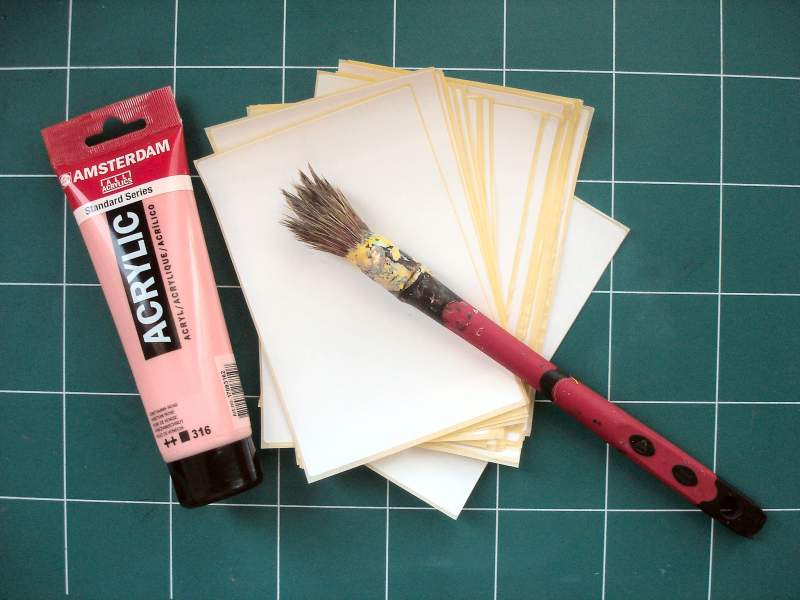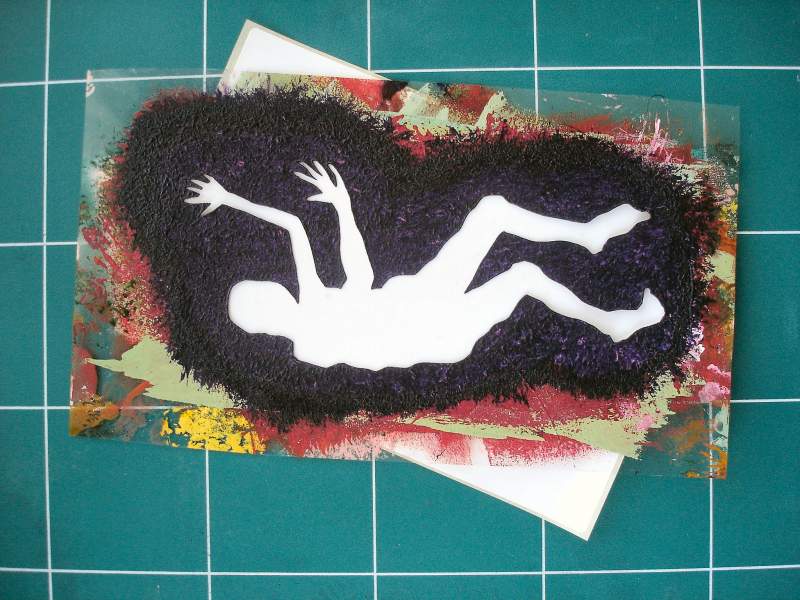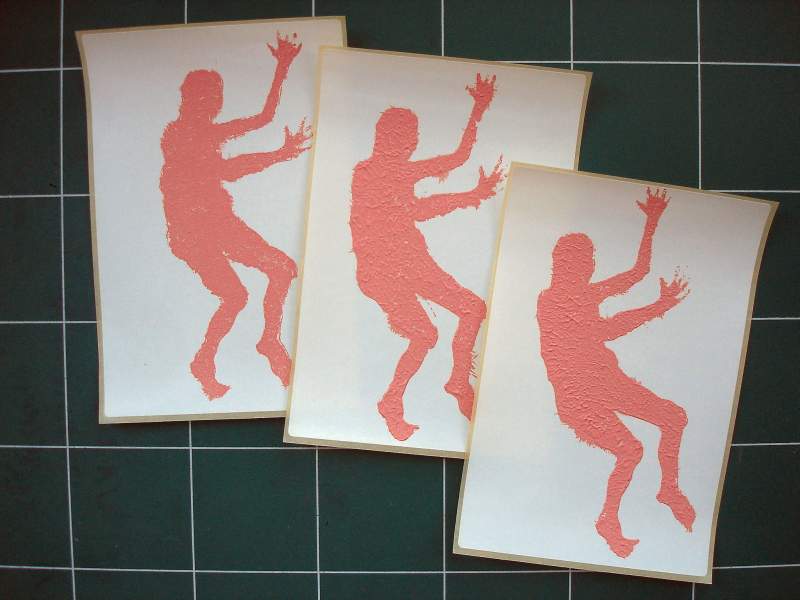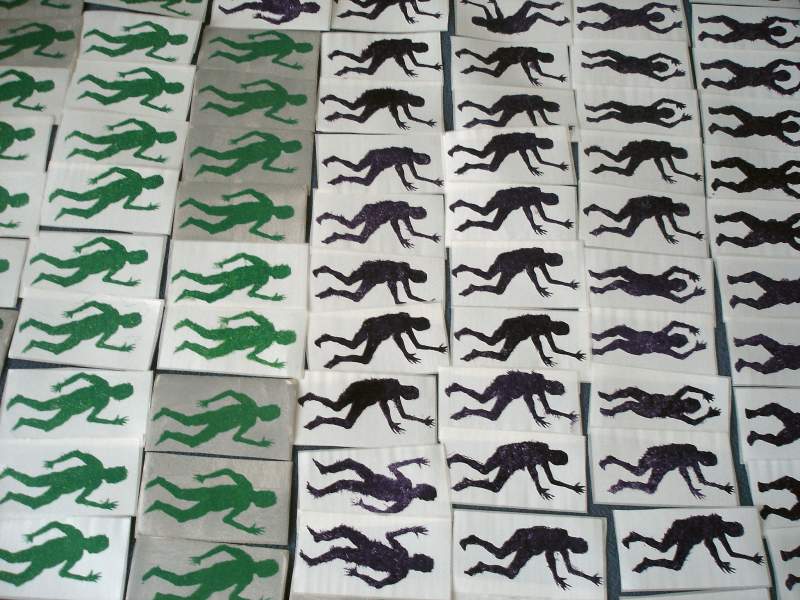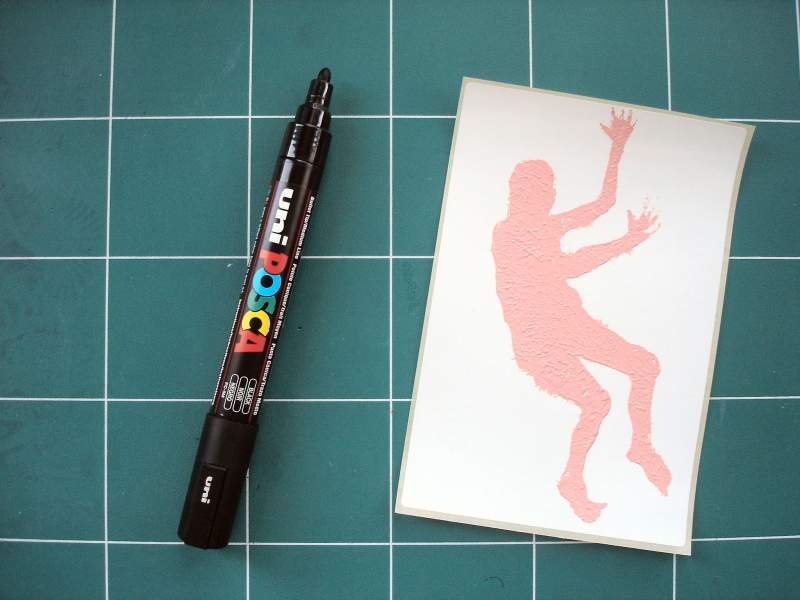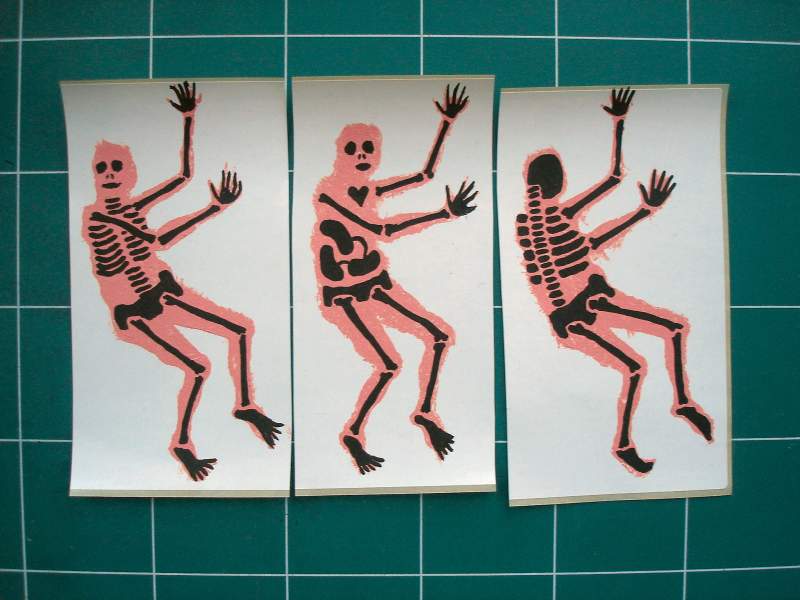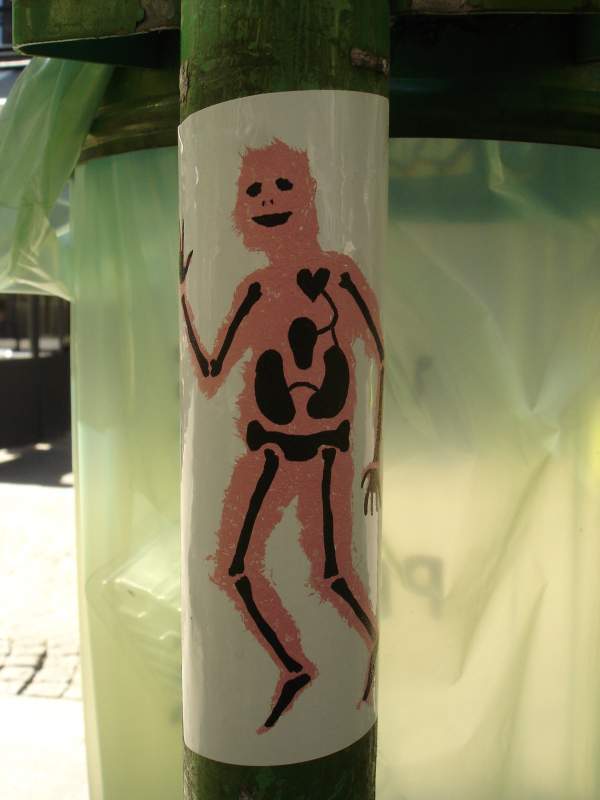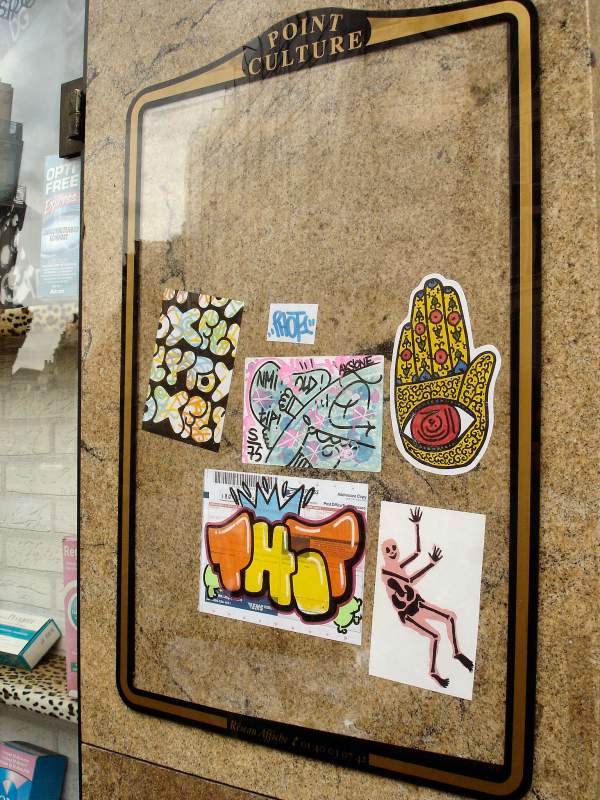 To do, did, done
This summer I felt kinda tired to paint insects all the time, but I'm really not fed up with them, just need to breath a moment. So I decided to make some experimentations, to try to paint new forms. It was time to regroup some ideas I had for a while. To me the image is as important as the creative process itself, I wanted to do something original.
Years ago, when I started doing stickers my main idea (among some few others) was to invade the city with my insects. Therefore my goal was to repeat my logo in huge quantity but always hand-made (to me that's the core of a real creation). Time after time I left the spray cans and my stencils to work on the creation of precise images. Walter Benjamin got a pretty clear vision of unicity in art ( hinc + nunc ) and I agree with most of what he said about it. Nevertheless I love repetition. To me that's a big element of most of street painters' identity.
In a second time I tried to find a good balance in the mainstream oppositions quality/quantity, unicity/repetition. I found a lot of answers with the silkscreen process. The inks are so powerful that they give to the drawing an aspect way more palpable than a numeric print. The pleasure of art and craft. Also you can repeat your drawing couple hundred times. I tried to leave some empty spaces on my screens. Like this it was possible to write a word/title on the top. Stickers were looking alike according to the drawing. By the color you could fine some variety. The word gave them unicity. ( http://futuristick.free.fr/index.php click on Autocollants to see some examples)
My issue this summer was coming from the fact that I wanted to get the unicity from the drawing itself and to product it in series. You can think about Phot, Akso or 3615 who are able to make a lot of stickers, patiently, one by one, with Posca markers, in a good quantity. I love the result and the creative process. It's good to think about it when you look at one of their piece. But I don't feel like I have this patience, or may be I'm patient too, but not in the same way. Time after time I found a good balance. I made gesticulating characters, each of them have a different mood, a different expression on the face. A silouhette made with a stencil and acrylic paint. A body which let visible its inside (organs and bones) made with a Posca marker.
Similarities, common points, difference, repetition, redundancy, multiplicity, changes, constancy and bla and bla and bla. A lot of words for little images that one could think insignificant. Especially knowing that I used plastic stickers, which means that the paint won't stay for good on them, in a few time my little army is going to disappear under the city life (dust, people) and the bad weather. All that to say that if I'm still motivated to have this childish activities, it's because I take a lot of of my pleasure in all the steps preceding the street sticking. For the rest, come what may!