Gros plan sur Shida
Allez, on continue dans la série de portrait. Printemps 2007. Quelques stickers assez discrets. J'en ai croisé peu mais ils m'ont tous marqué. Le premier c'était du coté de Pont Marie, dans une petite rue. J'ai aussi souvenir d'un panneau de circulation Ile de la Cité. Ah ouais, et puis un autre boulevard Saint Michel.
Shida, un blase simple mais qui m'était inconnu. De plus en plus d'artistes de rue se trouvent être des graphistes. Je ne sais pas si il en est un ou si il a subit leur influence, mais il y a une vraie efficacité dans ses images. Quelques chose de séduisant, sans tomber dans la facilité. Pourtant j'ai souvent du mal a apprécier ce genre de visuels. Les gouts , les couleurs, c'est jamais facile à faire comprendre. En tous cas c'est peut être le fait que ce soit fait au feutre qui me plait, alors que mes aprioris s'attendent à voir ce genre de dessin vectorisé et imprimé. Un dessin simple qui a un parfum d'enfance. Pourtant il est exécuté en une ligne et il reste équilibré. Le genre d'image qui stimule mon imagination. J'accroche souvent avec les images simples, infantiles et exécutées avec précision.
Shida. J'en pas vu des tonnes. Quelques uns, sur la même période. Un touriste surement. Un bon petit kiffe, avec sa dose de mystère, d'inconnu. Une présence rare qui lui donne une petite aura.
A vrai dire, après coup j'ai cherché à avoir des infos dessus. Et j'ai trouvé son fotolog http://www.fotolog.com/shida_one/ . Là le mystére s'est brisé, et l'aura s'est estompée. J'aurais du me contenter de ce que m'offrait la rue. Il semble être japonais. En regardant ses productions je me suis rendu compte que ce que j'aime chez lui n'est pas représentatif de son travail. J'trouve ça étrange. En général on s'attend à être agréablement surpris. Une petite déception mais qui n'enlève rien au plaisir que j'ai eu à le découvrir. Bref, trois photos pour traduire un coup de cœur.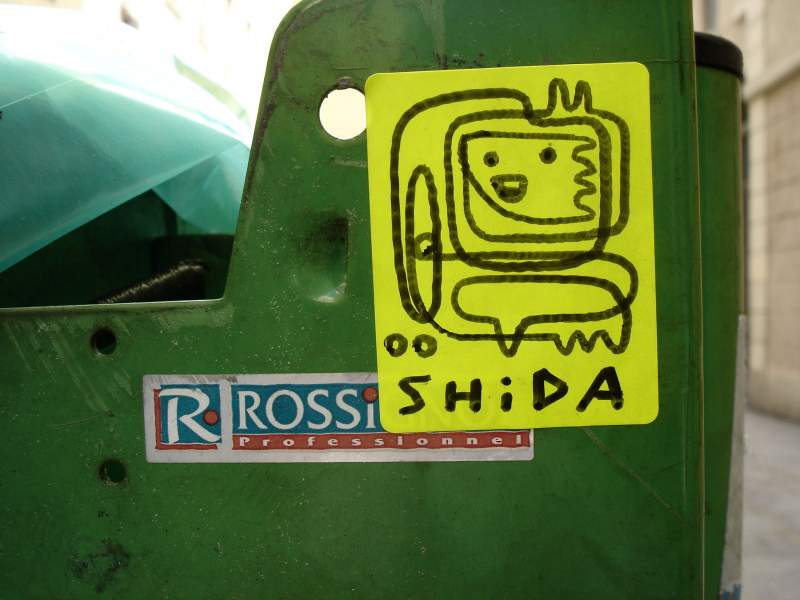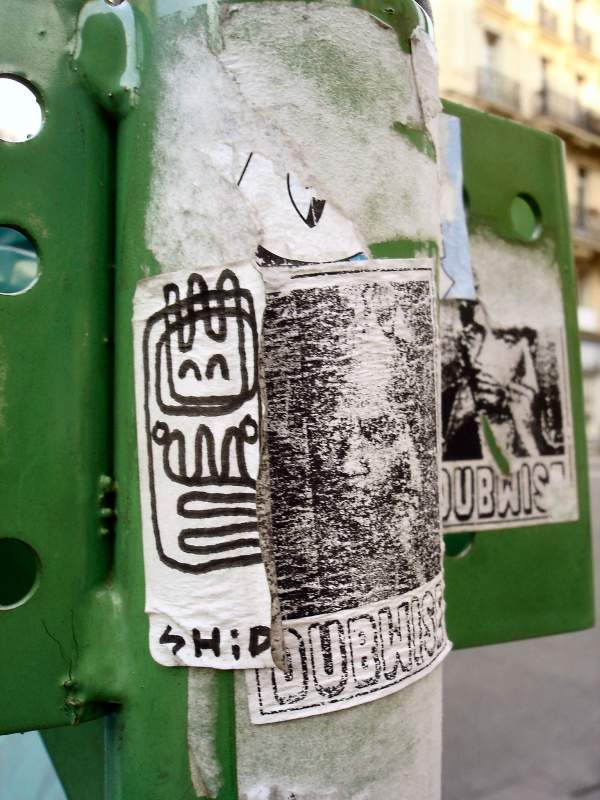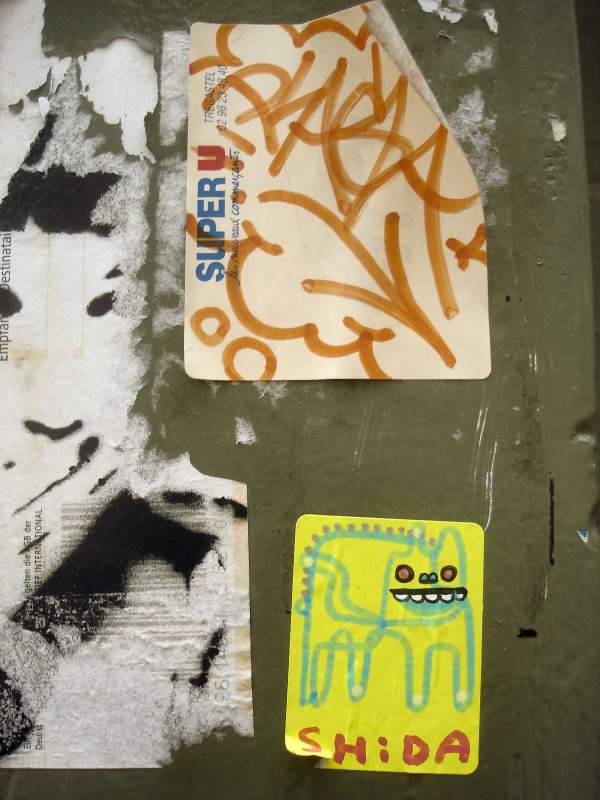 Focus on Shida
One more portrait. Spring 2007. A couple of discrete stickers. The first one was in the center of Paris, in a little street close to Pont Marie. Another on a road sign Ile de la Cité. Oh and I almost forgot a little one boulevard Saint Michel.
Shida. A simple name, totally unknown to me. I feel that more and more street artists are also graphic designers. I don't know if it's the same for him or if he has just been influenced by them, but there is something really efficient in his images without being too easy. Perhaps this balance come form the fact that my apriorisms expect this kind of visuals to be made on computers. Here, the childish drawing, hand-made, with only one line, stands well. This kind of image stimulate my imagination. I guess that's in accordance with my tastes: a well made simple stuff.
Shida. I have not seen so much. Just a few on the same period. This guy was certainly a tourist. His stickers were always a real pleasure. Mysterious and unknown. Pretty rare which give them a little aura.
I have to admit that I finished by looking for him on the web. I found his blog http://www.fotolog.com/shida_one/ . I broke the mystery. The aura get blurred. I should have taken only what the street gave me. He seems to be Japanese. Looking at his productions I noticed that what I liked in him was not representative of his art. I find it pretty weird. Usually when you find someone's blog, someone you like, you're expecting some nice surprises. I was disappointed but it didn't change at all the crush that I had on his little creatures. Three pictures to show my non-objective vision of his work.