C'est 1 suicide for you

Avant toutes choses, allez lire le billet de Frère Francis Quinze auquel je répond/ajoute mon grain de sel. Je rebondis plus précisément à sa remarque sur ce qu'il appelle le « graffiti originel » qu'il décrit plus loin comme du « graffiti innocent ». Ces deux mots: originel et innocent, font jaillir dans ma tête deux images, donc deux petites anecdotes.
La première concerne le mot « innocent ». Elle date d'il y a un an ou deux et se déroule Place d'Italie. Un autocollant sur une gouttière. J'y lis: Mareck innocent style. Ce sticker est parfait car tout concorde, l'innocence du trait, l'utilisation de feutre, le lettrage et son tracé maladroit. À la seconde où je le vois je le veux pour mes archives. Bon, comme à mon habitude je prend une ou deux photos, mais là ça ne me suffit pas. L'ennuie c'est que je fais partie de ceux qui s'accrochent à cette règle qui veut qu'on n'arrache pas les stickers des autres (hum hum!). Bon on peut s'accorder une exception ou deux, mais là malgré mon envie je ne voulais pas, ça aurait tué l'innocence de la pièce. Du coup j'attends, je le guète. La chance me sourit enfin un samedi après-midi. Il se trouve que la gouttière était le long d'un café. Café qui se trouve être en travaux de rénovation. Donc ce fameux samedi, je m'en approche comme à mon habitude et là « merde! » plus rien. En refaisant la façade ils ont du nettoyer autour. Un peu dépité je scrute le lieu quand je remarque au sol un bout de papier sale et mouillé. He he he! Telle une feuille en automne le stickers était tombé. J'ai pas hésité à le cueillir. Maintenant il a une jolie place dans mon book et j'en suis super content. Ce petit objet insignifiant a pris une grande valeur pour moi du fait même qu'il soit sans prétention.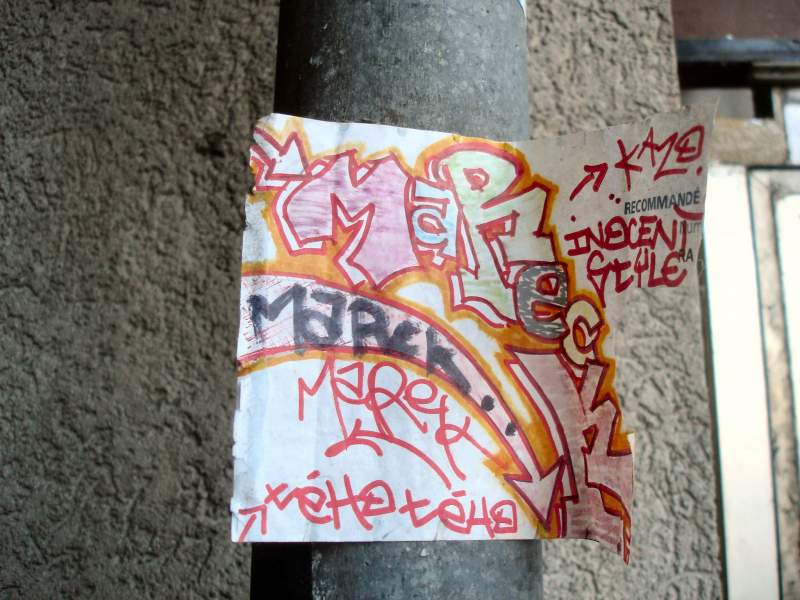 Autre anecdote, beaucoup plus ancienne cette fois-ci. Ça se passe au croisement de la rue Gassendi et de la rue Daguerre. J'étais enfant et je n'avais aucune culture graffiti. Malgré tout je tombe face un store sur lequel je vois, écrit au marqueur « C'est 1 suicide for you ». Le « for you » était écrit différemment, il n'était pas d'origine. Mais la phrase se lisait d'une traite. Je n'y vois toujours aucun sens. Mais je suis passé devant 1000 fois et j'ai jamais réussit à ne pas la lire. C'est devenu comme un de ces slogans publicitaires. Je l'ai casé dans mon cerveau a coté d'un « Just do it » qui n'a d'ailleurs pas beaucoup plus de sens. Cette victoire de l'impacte visuelle, des mots et du lieu, sur la signification cristallise pour moi tout l'intérêt des interventions urbaines que l'on peut qualifier alors d' « originelles ». Et ces deux exemples le montre bien. Parfois, sans raison apparente, on tilte sur quelques mots qui sont jeté sans sur le mur comme ça à la hâte.
Je suis curieux de nature. En commençant à peindre je me suis assez vite documenté. Donc forcement je me suis intéressé à la scène graffiti dite Hip Hop. Entre magazines et films l'éventail est assez riche. Pour les films je me suis fait la série des grands classiques 80's New-yorkais. Ça m'a amusé, ça m'a marqué mais je ne m'en suis pas senti proche. En tant que colleur d'affiche et d'autocollants c'est pas facile de trouver ses références.
Heureusement le Hip Hop garde cette qualité de stimuler l'envie d'explorer d'autres pistes. Comme quand on cherche le morceau d'où provient un sample. Ahhh! Quel bonheur ce fut de découvrir Nina Simone! Donc à force d'errance j'ai fini par découvrir un reportage des plus passionnants intitulé Who is Bozo Texino. C'est réalisé par Bill Daniel. Il dure à peine une heure. Pourtant c'est très riche au niveau visuel. Je n'ai pas le vocabulaire pour décrire la qualité du noir et blanc mais il y a une certaine intensité et des petits défauts qui donne beaucoup de charme à l'image. Aussi pour son sujet. Ce documentaire expérimental s'intéresse à la culture Hobo (des vagabonds qui se déplacent de train en train à travers les États Unis). Certains d'entre eux ont pris l'habitude de marquer leur passage à la craie sur les wagons. Chacun adopte ainsi un nom et un logo. C'est intéressant que Bill Daniel ait dépassé l'image du « punk à chiens » pour y trouver des individus qui savent rester infantiles et poétiques.
On a beau rester dans le monde du train, j'y vois plus de liens avec les autocollants qu'avec les graffiti sur roulants. Surtout par rapport au format, petit, discret, le logo se perd au milieu du wagon. Le dessin s'adresse donc à ceux qui côtoient ses trains de près les Hobos ou les employés du réseau ferroviaire. Ils restent invisibles à ceux qui ne prêtent pas attention à cette culture. On sent une recherche d'identité et de reconnaissance qui se limite à ses pairs, beaucoup plus forte qu'un besoin d'être connu à tout prix.
C'est là que le mot originel revient. Quand l'éraflure vient d'une pulsion et n'est destinée qu'à soi et un petit réseau de personnes. On retrouve ce besoin de retour au source chez différents artistes lorsqu'ils s'expriment. 3615 qui parle d'originel nous rappelle Fuzi qui parle d'ignorant. J'ai en tête le style main gauche employé par les Frères Ripoulain il me semble. Perso j'ai une préférence pour le mot spontanéité. On a encore le crackism ou le classique toy. Des expressions employées par des peintres pour en décrire d'autres. Les significations varient mais on reste sur l'idée d'un retour à une peinture/un dessin qui se définit par le geste, sans contraintes, sans complexes, sans prétention.
En ces temps de crise et d'élections sur-médiatisé ça fait du bien de respirer un peu et de donner à l'Amérique un autre visage, usé par le voyage et l'errance, souriant, les yeux plongé dans l'horizon. Une petite population qui vit en marge de la société avec d'autres valeurs. Pendant le film, un phrase apparaît furtivement, un peu comme le fameux « From here to fame » sur un wagon de train New Yorkais; sauf que là le message est à l'opposé: « Nowhere… fast ». Je suis trop attaché à mon confort pour expérimenter ce genre de vie, j'en suis très loin, mais ne serait ce que parce que même avec ce décallage je peux partager un certains nombres de sentiments avec ces voyageurs, je ne serais trop vous conseiller de voir ce petit bijou dont voici quelques extraits.




Nowhere… fast

Before reading this post, go read the article of our dear Brother Francis the Fifteenth. This is an answer/a participation to one of his idea about what he calls « original graffiti » (original as something belonging to the origin). Later in the text he even qualify this kind of graffiti as innocent. These two words: innocent and original are really meaningful to me. Immediately I have two images in my mind, and two little stories to tell you.
The first one is a flashback, one or two years ago. Place d'Italie, in the south of Paris. A sticker on a gutter where I can read « Mareck Innocent Style ». It was just perfect, everything in this little image was coherent. The use of bad felt-tip pens, the lettering, the innocence of the line and its clumsiness. I just wanted it for my archives. Of course I took a couple of pictures, but for this one time I really wanted the object. The thing is that I belong to this kind of people who don't tear off stickers from the street. Okay, sometimes we can make an exception, but not here, it would have kill all it's innocence. So like a fisherman I wait. It was stuck on a café which was in alterations. On a wonderful Saturday afternoon I went there to look at it one more time « Damn! » nothing left. They must have cleaned it. Totally disappointed I staid there and looked around. I saw a piece of paper on the floor, all wet and dirty. Perfect, that's it, quietly waiting for me. Now it has a good place in my book. It get a huge value to me coming from its modesty.
Another story, way older. When I was just a kid and I had no interest for any kind of art, I saw a line tagged on the blind of a store: « C'est 1 suicide for you », half French/half English, meaning « This is a suicide for you ». That was not making any sens, but I walked in front of it may be 1000 times. Each time I had to read it, I couldn't control myself. Exactly like a stupid motto on an advertise. I put it in my mind close to « just do it », which was as stupid by the way. This is the victory of the visual impact (coming from the words and the place) over the signification. To me this victory is the perfect example of what I enjoy in street paintings, that one could call original. These two examples underline that we can be attracted by some words thrown on the wall without any obvious reason.
I'm curious by nature. When I started to paint I needed documentation. Of course I looked at the Hip Hop culture: graffiti magazines and movies. So I watched the classic 80's movie about New York. Pretty fun. Nothing really meaningful to me, as a sticker and poster maker it's not so easy to find references. Fortunately, Hip Hop keeps this capacity to stimulate your curiosity and your need to explore new cultures. Like when you hear a good song and you want to know where does the sample come from. What a pleasure to discover Nina Simone! So with time, keeping my mind open I found a passionating documentary untitled Who is Bozo Texino. It's directed by Bill Daniel. Barely an hour but really intense visually. I don't know the specific words to describe the quality of the image, let say that the black and white is beautiful and got enough defaults to give it some appeal. Also the subject is fascinating. Bill Daniel followed Hobos (vagabonds traveling by train across the US) during years. Some of them mark their trip by writing their name or a logo on the wagon. It's a real culture. That's great to see beyond the bum and discover childish and poetic people.
Despite it's still about trains, I find more links between boxcar artists and stickers than with graffiti on train. Especially because of the format, little and discrete. The drawing get lost in the middle of a wagon. Only people who live close to the trains (hobos and railroad workers) can see them. They stay invisible to the one who don't pay attention to this culture. It seems to be a quest of identity inside of their subculture, more than a need of fame.
Original, when the scratch comes from an inside feeling, a need of expression dedicated to its author or a little group of people. Different artists speak about this need to come back to the source: 3615 speaks about original and remind us Fuzi who use the expression ignorant style. I also remember les Frères Ripoulain speaking about left hand style. Personally I prefer using the word spontaneity. One could also say crakism or the more classic toy. Different expressions to describe a drawing/painting which go back to the simple gesture, without constraint, complex or pretension.
Between the financial crisis and the American election this is so good to breath and give another face to America, a smiling face eroded by traveling, the eyes lost in the horizon. A part of the Americans got other values. In the middle of the movie, you can read some words on a train which reminded me the famous « from here to fame » on a New York subway train. Here the meaning is just at the opposite "Nowhere… fast". I love comfort way to much to try to be an hobo, but if I can share some feelings even with this huge gap I will never insist enough to make you watch this pure moment of happiness. Now I let you watch these two extracts.