Charlie est à la maison
Vous vous souvenez des Charlie? Pour ceux qui n'auraient pas souvenir de ce petit projet, je le résume en vitesse: il s'agit d'une série de100 stickers à l'effigie de Charlie (de Où est Charlie) répartis au hasard dans Paris, tous réalisés en sérigraphie puis numérotés à la main. Un entête invite les passants à retrouver tous les autres. Encore une fois je recycle une ancienne vidéo pour illustrer mon propos http://www.youtube.com/watch?v=Tntd5WdGqmc .
Ça doit faire un peu plus d'un an que j'avais fait ça. De mémoire j'avais fais les stickers en deux après-midis. J'avais fait le collage assez vite pour être sûr qu'il y en ai bien 100 au même moment dans la rue. On va dire que j'y avait passé une petite semaine. Certains ont sauté assez vite. Je suis quand même assez content car les survivants sont plutôt nombreux et c'est les intempéries qui se chargent de les user. J'pense pas qu'il y ait eu de vrais joueurs (à par peut être Dubwise qui en avait retrouvé pas mal), les quelques personnes qui m'ont rapporté en avoir trouvé étaient tombées dessus par hasard. De toutes façons je finirais par relancer une partie sous une forme ou une autre.
Bref, le numéro 01 était collé dans un coin du treizième. L'inempêchable routine de la vie fait que j'ai été amené à passer régulièrement devant depuis son collage. En plus du plaisir de créer, un moment plus rare est celui de voir son autocollant vieillir sur le mur, résister au nettoyage et se faire user par le soleil, le vent, la pluie et la pollution. Je ne sais pas quelle propriété chimique est à l'origine de se phénomène mais il se trouve que des couleurs que j'utilise avec ma Gocco seuls le bleu et le noir résistent au temps.
Quoiqu'il en soit, au printemps dernier je remarque que mon Charlie numéro 01 a pris un sacré coup de vieux. En quelques jours je vois qu'il se décolle par le haut. Normalement je ne triche pas, ce qui appartient à la rue est destiné à y mourir. On va pas non plus s'interdire quelques travaux de rénovation de temps en temps. Merde! C'est le premier de la série, c'est symbolique. Un dimanche soir, un rouleau de scotch dans une poche, et un tube de colle dans l'autre je pars à sa rescousse. Pas de pot il pleut des cordes. C'est foutu pour le re-collage, mais j'étais déjà dehors, autant aller voir. Apparemment je suis arrivé pile au bon moment. La pluie était en train de l'aplatir et de le faire glisser le long de la paroi. Il était vraiment foutu pour le coup, tout retourné le vieux Charlie. Je décide de le récupérer. C'est pas facile, même quand il semble prêt à partir il y a toujours un coin qui veut pas se décrocher. Ou j'dois manquer de technique pour l'arrachage propre.
Heureusement j'avais de la réserve. A peine rentré je sors mes archives. J'en retrouve un avec de bonnes couleurs. Je le numérote. Par honnêteté vis à vis des joueurs… non en fait c'est surtout pour le fun, j'inscris « Réplique » dessus. Et histoire de garder les couleurs un peu plus longtemps j'le protège avec une couche de scotch. Le lendemain il était replacé. Il n'y a pas plus anecdotique que cette histoire, elle n'a vraiment rien d'incroyable mais j'y repense souvent. J'en ai quelques unes comme ça. J'me dis qu'on en a tous dans le même genre. Des trucs très différents mais qui nous surprennent toujours. C'est parfois même des interactions avec d'autres gens, par murs interposés ou en vivant.
Finalement je ne m'étais pas trop mal débrouillé dans mon décollage, après séchage j'ai mis l'original, dans un cadre. De près on peut voir qu'il a pris du relief. On voit que le papier a été usé que les couleurs sont passé. Il est tout gondolé et trône sur mon mur au dessus de mon bureau. Comme un soldat rentré à la maison.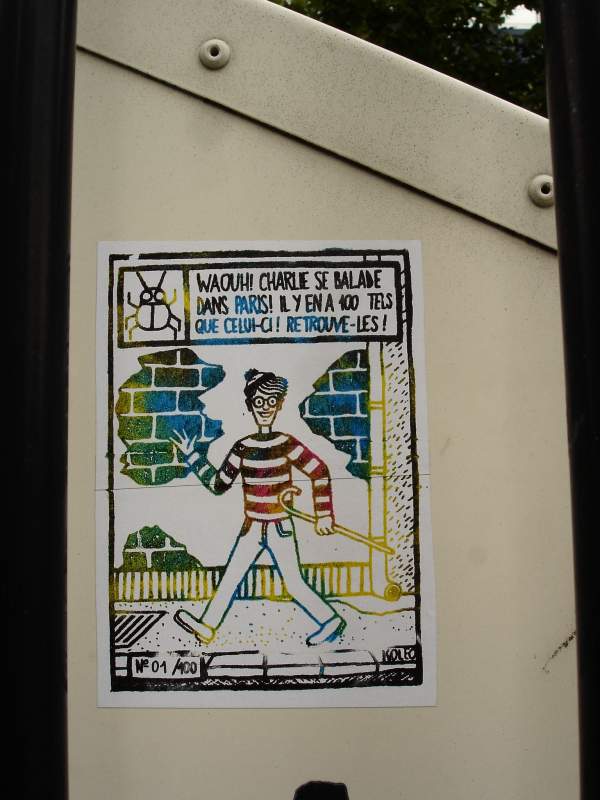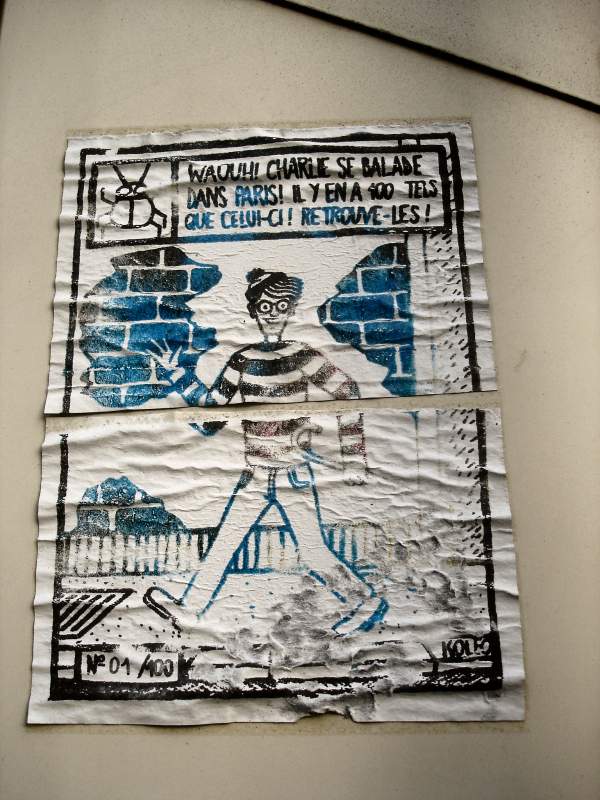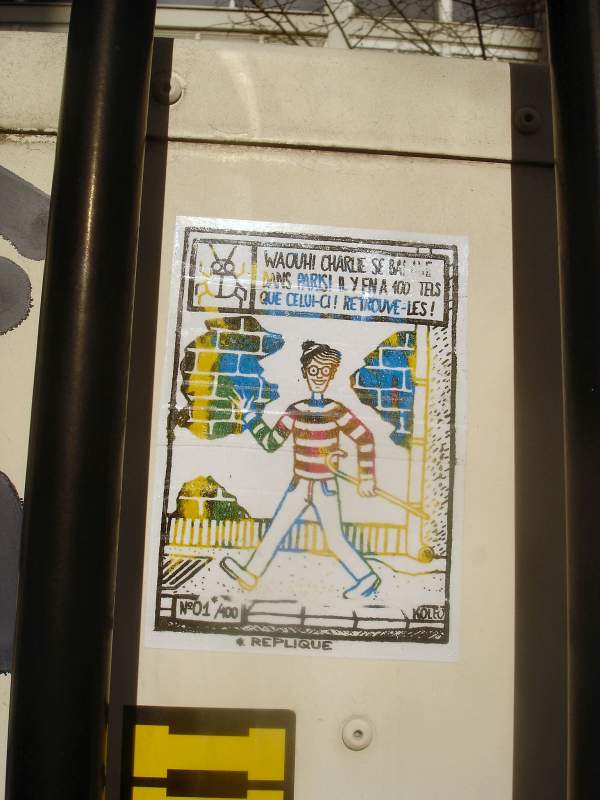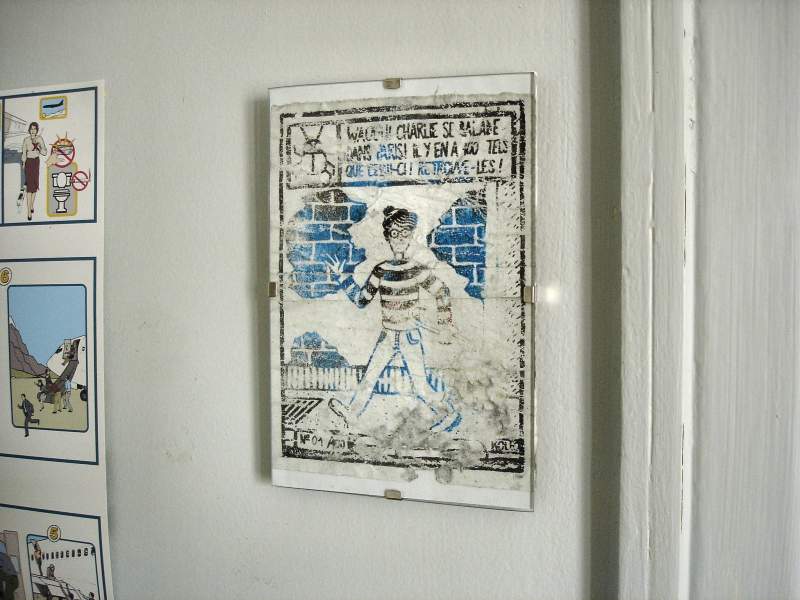 Waldo's home
Remember Waldo (Charlie for the French)? For the ones who don't I can summarize it in these few words: it is a series of 100 silk screened stickers representing Waldo (the character from Where is Waldo), numbered one by one with my hand then stuck all over Paris. Once again you can re-use my old video http://www.youtube.com/watch?v=Tntd5WdGqmc to refresh your mind.
It must be something like a one-year-ago project. I guess it took me a couple afternoons to make the stickers. I absolutely wanted to have the 100 at the same time in the street. I had no idea how long time they will stay. It had kill me to see some already gone before that I even finished to stick the whole thing. We can say that I needed a full week to finalize the project. Of course some get cleaned the next days. But I'm pretty happy, a big part of them stayed/are staying in spit of the city life (people and buff). Now the bad weather is taking care of them. Getting old is the best proof of the fact that you're alive. I doubt there were real players (even if Dubwise found a good number of Waldos), the few ones who told me they saw some found them by hasard. Never mind, I'll certainly start a new game in another way.

Here is the core of this text. The number 01 was stuck in the '13ème arrondissement' of Paris. The unavoidable routine of my life made me walk by it regularly. Time after time I noticed it getting erosion. For a mysterious reason, whatever are the colors I can use, with time they become always black and blue. It was fun to see this phenomenon step by step.

Nevertheless, last spring I noticed that Waldo #01 was looking really bad. In a couple of days the upper part stopped sticking, the sticker was falling on itself. Usually I refuse to cheat, what belong to the city must die in the street. Come on! I'm not so stubborn. Sometimes it's cool to restore an old piece that we enjoy. Next sunday, I was putting scotch tape in a pocket and a tube of glue in the other. No luck, it was raining. I was already on my way, why not having a look at it? The rain was strong, I found the stick sliding on the side. So I decided to take it back home. That's not an easy job, or may be I need practice.
Fortunately I had a lot of other Waldo stickers quietly waiting. As soon as I was back home I found a good one, looking like the original (similar colors, really clean, a little default in the text), certainly close in the fabrication. I put the number. To be fair with the players… no I'm kidding, actually just for fun, I wrote 'Réplique' (replica in English) on it. To use what the time taught me I protected the colors under a layer of scotch tape. The next day Waldo was discretely replaced. This is may be the most anecdotic story ever, nothing incredible in it, but I think about it really often. I got some other stories like this. Some tales from the sticking activities. We all have some of this kind. Various stuff which are still able to surprise us. It can even be interaction with people, in live or on the wall.
Finally my un-sticking was not so bad. I put the original Waldo #01 under a frame and put it over my desk, in my room, to see it everyday. It's like enjoying the presence of the back-home soldier.