Du panini au malabar / Let's keep it childish (2/2)
Souvent quand je passe devant un collège j'aperçois autour des tags au marqueur Conté ou au Véléda. Des trucs vite fait. Des blases idiots, même des prénoms ou encore des insultes. Qu'on appelle ça Crack ou Toy, à ce niveau là j'y vois juste un geste spontané. Une signature sans prise de tête. Un truc brouillonné la veille, bien loin de se demander s'il faut le poster sur le net, si ça ressemble plus a un tag de New York ou de São Paulo, si on va capter qu'le « S » a été pompé sur untel. Un geste gratuit, que même l'auteur ne prend pas au sérieux. Un geste qui va souvent être oublié en grandissant.
[ D'un coup j'ai en tête une interview de Blek le Rat, où il parle de ses retour de l'école, une craie à la main qui trace une longue ligne sur son chemin http://fr.youtube.com/watch?v=B2D1kFS9TY4 ]
J'ai parlé de blases idiots, je crois. En fait ce sont mes préférés. Des petits tags locaux dont on ne parle jamais. Même ceux qui les font passent à autre chose au bout d'un mois. Pour moi c'est l'essence même des formes d'arts de rue. Quelque chose de naturel et de simple, qui ne se pose aucune question, accomplie instinctivement. Forcément, plus on s'y intéresse plus on y perd le naturel. Après on essaie de le combler par une culture. On essaie de se nourrir du naturel des autres. C'est exactement ce que je fais maintenant.
Depuis environ deux ans Malabar offre à nouveau des tatouages éphémères avec ses chewn-gum. Et depuis j'ai un nouveau plaisir. Un truc complétement idiot. Un de ces trucs dur a expliquer aux autres. Un plaisir égoïste et gratuit.
Dans les rues de Paris, on peut voir les fameux tatoo Malabar collé sur les murs, à la hate. Une connerie de gosse faite sur le chemin entre la boulangerie et le parc. J'adore ça. J'vois ça comme une version plus jeune des tags collegiens. J'me dis que dans le lot certains y prendront goût. J'me dis aussi qu'y aura de la relève pour coller des stickers d'ici peu.
[ http://www.fotolog.com/deace/32744927 à croire que Malabar a aussi pensé au coté Street de ses tatoos]
Mais mon vrai plaisir est un peu plus rare, plus discret. Il arrive que le tatoo soit posé, sans qu'on est retiré le papier. Comme une grenade encore goupillée. Comme un Banco qu'on aurait jeté sans le gratter. J'en ai remarqué plusieurs à force de scruter les stickers sur les poubelles et les gouttières. Depuis je les chasse plus ou moins. Ça paraît peut être ridicule, mais ça me rend tout foufou de décoller le papier abandonné sur le mur et de découvrir l'image qui s'y cache.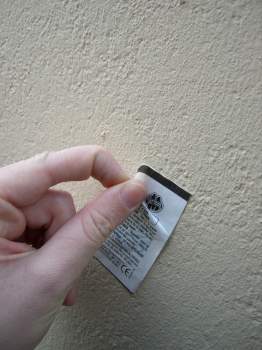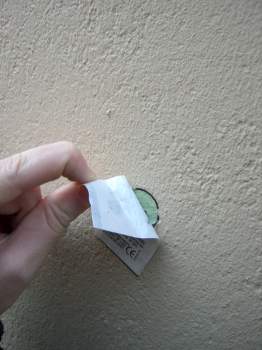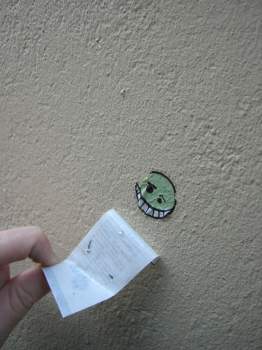 Let's keep it childish (2/2)
When I wander around High Schools I often see some graffitis made with basic markers, some crazy nicknames, sometimes it's just first names or even gross words. You can call it crack or toy. I'd rather call this spontaneity. A quick signature which doesn't care about being on Flickr or Wooster, which doesn't think about its style, which doesn't have a real importance for its author. Most of the time the author will even forget about it.
[ That remind me a really well done interview of Blek le Rat speaking about his way back home after school, leaving a long chalk-line on walls http://fr.youtube.com/watch?v=B2D1kFS9TY4 ]
This graffitis can look like stupid things. They certainly are. Where did I read « stupid people do stupid things »? Can I say that stupid people love stupid things? Never mind, this shit is what I love. That's the core of every form of art you can find in the street. A natural and simple act, purely instinctive, wich got for only goal to be itself.

Since a couple of years Malabar, a chewn-gum brand gives a fake tatoo inside of its product. This is at the origin of a new pleasure I have. Something really selfish. Something hard to explain.

Sometimes you can see on walls these tatoos, I noticed it while I was seeking for new stuff on walls. Someone put them here, quickly, they are often kinda low. A childish act, made between the bakery and the park, something done during the snack time, during this moment of freedom, as a mark of simple pleasure. I believe that among all these kids doing it instinctively, some will keep this sensation and make stickers or posters later. There is still some hope for our activity.
[ http://www.fotolog.com/deace/32744927 seeing that Malabar doesn't hesitate to still a real graffiti to make its new collection I start to believe that they took concience of the Street potential of there tatoos ]
In fact my real pleasure is even more rare and discret. It happens that the tatoo is abandonned on the wall with its protective layer. Like a grenade still armed. My darling sin is to take of this layer and discover the image wich was hidden under. To me it's like putting a turtle back on its feet.