Posted by:
koleo
in
Futuristick
,
Zoom zoom zoom
Gros plan sur Hao
Voilà, il est temps d'être moins narcissique et d'ouvrir ce blog à d'autres faiseurs de stickers. Comme j'ai essayé de le montrer dans les autres articles, j'ai un vrai attachement à l'autocollant en tant qu'image mais aussi en tant qu'objet. C'est comme ça que je les regarde, en m'en approchant, en en appréciant les finesses et en les touchant. C'est pourquoi mes photos se focalisent sur les détails, par des gros plan, plutôt que d'utiliser des plans larges. J'ai tendance à privilégier les portraits aux photos de famille. C'est aussi ce qui me pousse aujourd'hui à porter mon intérêt sur des acteurs de ce petit mouvement et surtout sur leur individualité. Toujours dans cette idée de gros plan on va tenter de faire une série de portraits, une vision qui est de fait réductrice puisqu'elle ne se penche que sur l'activité stickers des artistes choisis juste en quelques photos. Alors on va jeté des fleurs, mais on va surtout essayer de partager un kiffe!
Aujourd'hui j'ai nommé… Hao. Je commence par lui tout simplement parce que c'est le premier que j'ai rencontré en personne. C'est un pocheur avant tout, mais parce qu'on est sur ce blog je vais réduire mon intérêt aux supports autocollants.
Quand j'ai commencé à m'interesser à cette pratique, je suis assez vite tombé sur un des siens. Il était dans le 6ème, une tête de profil au look Rock n'Roll qui était restée intacte un petit bout de temps. Une fois cette image en tête j'en ai vite repéré d'autres.
Il y a plusieurs raisons qui me rendent assez fan de son boulot. En fait c'est souvent ces mêmes raisons qui me font apprécier d'autres artistes. La première c'est que sa production s'inscrit dans la longueur. Au final il est constamment présent depuis plusieurs années, ça change des épiphénomènes qui collent pendant deux semaines et qui disparaissent. Aussi parce qu'on voit qu'il y a tout un processus de création pour arriver au résultat. Plusieurs pochoirs pour chaque stickers, même le fond a des motifs, finalement ça donne trois voire quatre couleurs. Hey! Ça paraît peut être bête mais ça compte, ça rend l'objet beaucoup plus précieux qu'un truc imprimé par une machine. Surtout que le dessin est propre, bien précis. Enfin ce que j'aime ce sont ses références (musicales/graphique, j'vais pas m'aventurer à les définir), tout simplement parce que c'est pas ma culture mais que j'arrive à les apprécier.
Bref, chapeau l'artiste!
Donc voici cinq stickers, juste un échantillon, j'ai essayé de faire varier les modèles et leur usure.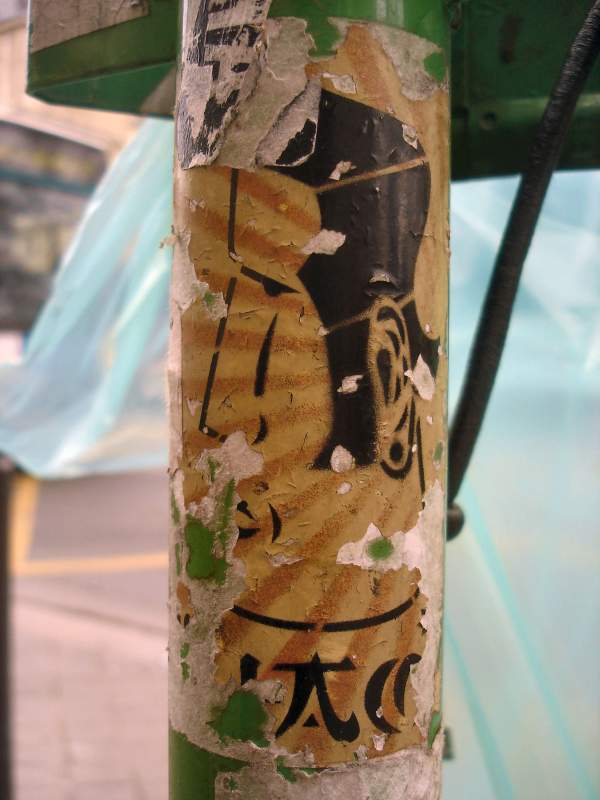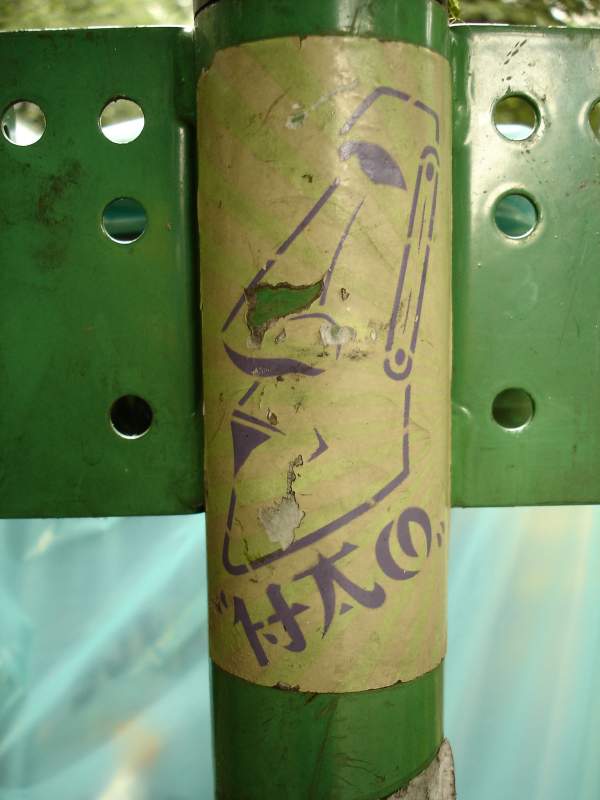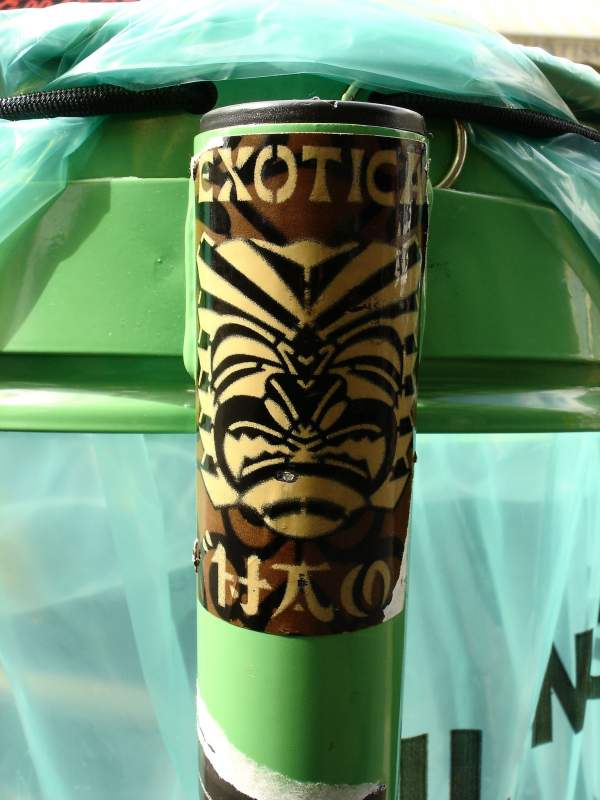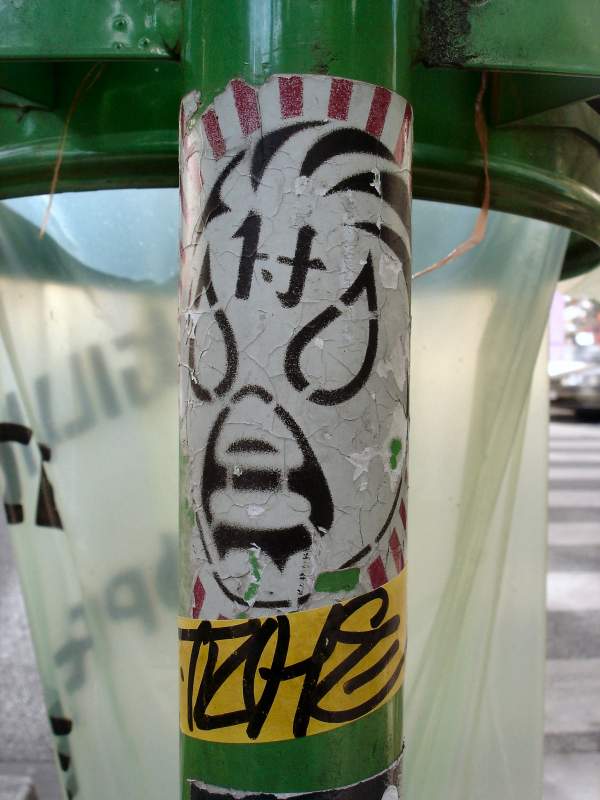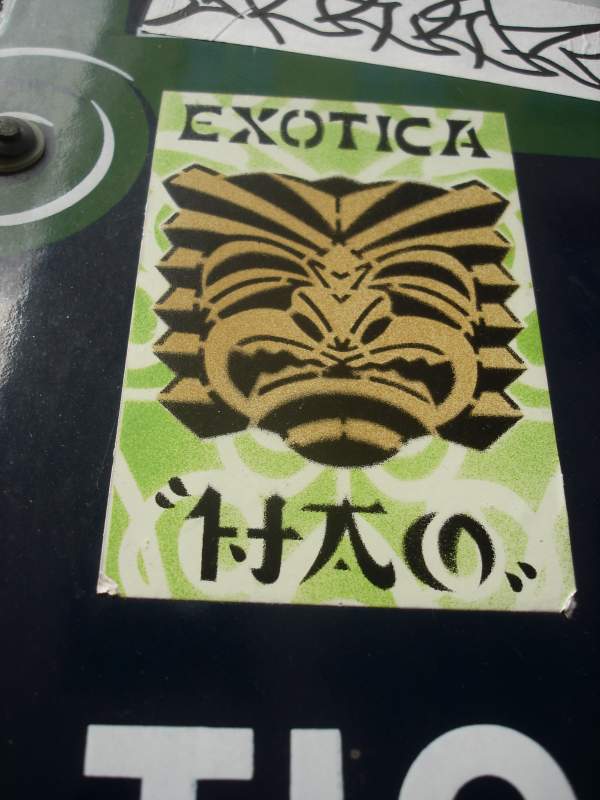 Focus on Hao

It's time to open this blog to its core: sticker artists. I certainly already said it, may be not enough: I'm a huge fan of stickers. First of all for the image: the drawing, the logo, the colors… But also for the object itself. I like the idea of something created, from a blank piece of paper to the stuck piece in the street. I like to see it getting older with injuries, scars and rents. That's the way I look at them, getting closer, appreciating the details and the particularities. That's why my pictures are focusing on one sticker at the time. I prefer using close-up than large views. In another way we could say that I prefer portraits than family pictures. With the same idea, I want to zoom on some artists, to look at them through a few series of pictures, to underline their particularities. Of course I'm going to select people of whom I appreciate the work, therefore I'm going to be nice. We have so much opportunities to hate that it could be fun, for once, to share some good feelings.
Today the spotlight is on Hao. I start my series of portraits by him, mostly because he is the first one I met for real. He is first of all a stencil artist. But here we'll be reductive, we'll speak only about his stickers (for all the rest you can use Google).
I remember the first sticker I saw made by him. It was a head, seen in profile, Rock n'Roll style. It was stuck just in front of my high school and it staid there for a several time. Once I got this image in my mind I kept seeing it around.
There are various reasons which make me fan of his work. Actually it's most of the time the same reasons which make me fan of someone else's stickers. First his stickers had been here a long time ago. He is this kind of constant guy, which is way better than all this epiphenomena disappearing of the street after a couple of week. Also because all the creating process is visible. You can appreciate the different layers of the stencil and even the pattern of the background. The drawing is always really clean and precise, in two, three or four colors. Yeah! It can look silly but it make sense, it gives all its value to the sticker, it makes it way more precious that something printed with a machine. Finally I like Hao's universe, it's full of graphic and musical references to the past.
Big up buddy!
So here you can see five examples, just a sample, showing different models at different ages.